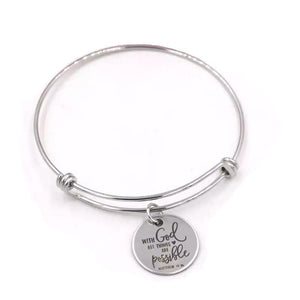 Elevate your style and express your faith with our exquisite "Luxe Palette Religious Charm Bracelet." This Expandable Wire Bangle is not just a piece of jewelry; it's a meaningful reminder that with God, all things are possible.
Key Features:
Stylish Design: Crafted with elegance and sophistication, this bracelet adds a touch of luxury to any outfit.
Faithful Inspiration: Embrace the powerful message of faith and hope, beautifully engraved with "With God All Things Are Possible."
Adjustable Fit: The expandable wire bangle design ensures a comfortable and customizable fit for all wrist sizes.
Religious Charm: A tasteful religious charm dangles gracefully from the bracelet, symbolizing your spiritual connection.
This Luxe Palette bracelet is a perfect addition to your jewelry collection or a thoughtful gift for someone special. Wear it as a daily reminder of the limitless possibilities that faith can bring into your life.
Bring elegance, faith, and inspiration together with our "Luxe Palette Religious Charm Bracelet." Order yours now and carry a piece of God's promise with you wherever you go.
With God, All Things Are Possible Religious bible verse charm bracelet is the perfect religious jewelry gift to give to a spiritual person who could use the reminder that they can do all things with Christ who strengthens them. The single charm bracelet would look great stacked with a beaded inspirational bracelet or another one of our inspirational charm bracelets. All of our mantra jewelry ships out within 48 business hours for free!
Check out some of our other get well soon gifts. We have inspirational throw blankets and inspirational tote bags to help you create the perfect get well soon gift pack. 
Our inspirational and motivational jewelry make lovely gifts for anyone who needs a little reminder of their awesomeness and to help them feel the strength to continue with any battle. Mantra jewelry makes the perfect gift. Wear your inspirational jewelry as a reminder to go forth in life with a positive mindset and you will conquer anything you set your mind to.  Choose from one of our inspirational bracelets with a special mantra or a pendant to remind you that you can be brave. Our inspirational jewelry makes a great gift. Our religious bible verse jewelry will make a special gift for a religious friend.