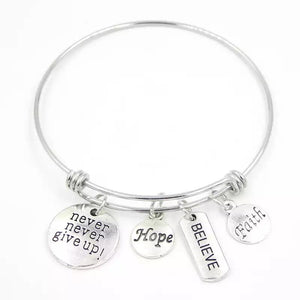 Elevate your spirit and fashion sense with our "Never Give Up Hope Believe Faith Charm Bracelet." This beautifully crafted piece of Inspirational Jewelry is designed to inspire and empower.
Key Features:
Inspirational Message: Wear the message of "Never Give Up," "Hope," "Believe," and "Faith" as a daily reminder of resilience and positivity.
Exquisite Charm Design: This bracelet boasts intricately designed charms that encapsulate the essence of hope and faith.
Adjustable Fit: The bracelet is designed for all wrist sizes, with an adjustable feature ensuring a comfortable and secure fit.
Premium Quality: Crafted with attention to detail, this charm bracelet is made to last, combining style and durability.
Whether you're seeking a boost of inspiration or looking for a meaningful gift for a loved one, our "Never Give Up Hope Believe Faith Charm Bracelet" is the perfect choice. Let these empowering words become a part of your daily life and fashion statement.
Embrace the power of hope, belief, and faith with this elegant accessory. Order yours today and carry these positive reminders with you wherever you go.

Never Give Up bangle charm bracelet has hope, believe, and faith charms. This bracelet makes a great get well soon gift. Wearing an inspirational bracelet is an awesome way to help practice mindfulness. A motivational mantra bracelet gives you something to touch when you are feeling stressed and worried. The jingle of the charms can give a calmingand relaxing sensation to the wearer. All of our mantra jewelry ships out fast and free!
Check out some of our other get well soon gifts. We have a selection of inspirational quote blankets, quote mugs and tumblers and inspirational tote bags. Create a whole get well soon gift pack to help bring strength and comfort to your loved one during a challenging time.
Inspirational and motivational jewelry is a way to express yourself and remind you to always have a positive mindset. Mantra jewelry makes the perfect gift. Wear your inspirational jewelry to remind you that you want good vibes only.  Choose from one of our inspirational bracelets with a special mantra or a pendant to remind you that you are brave. Our inspirational jewelry makes a great gift.
We think inspirational jewelry makes a great gift to give your mom, sister, best friend, or coworker. Help uplift their spirits with a bangle charm bracelet with reminders of hope, faith and never giving up.